Beth El, (Midland-)Odessa, Texas
revised 17 October 1996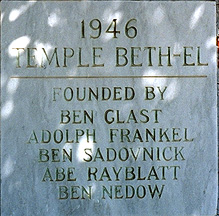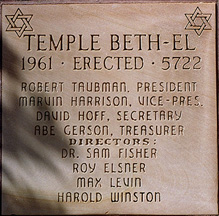 Although there have been Jews in Odessa (and nearby Midland) for years, the community did not reach critical mass until WWII. Services were held at the local bombadier training base during the war, shortly after which in 1946 a simple brick building was erected (see church below). In the early '60's the congregation moved uptown.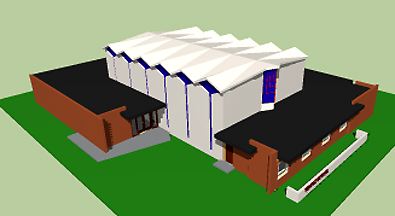 This aggressively modern building combines in one package many of the signature features of Frank Lloyd Wright, Corbusier, and other icons of its time.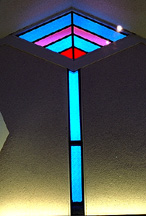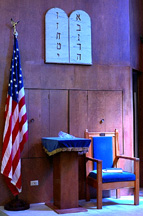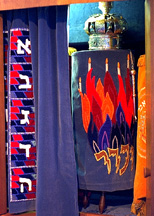 The sanctuary interior is suffused with blue light coming from the stained glass inset in the folded plates of the roof and the pendant keys below. This is a well-used and pleasant building.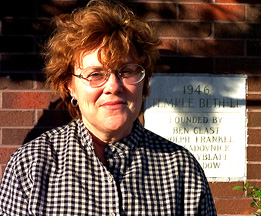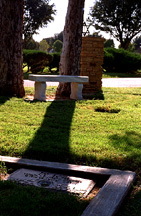 Charlotte Harris, eschet chayil, maintains the Jewish standards in a place where they are often tested, if understood. Beth El is affiliated with both Reform and Conservative groups, a range of practice and observance which can barely satisfy the variety of people who make up the official (and unofficial) congregation. There are times when the line must be drawn between Jews and their non-Jewish spouses.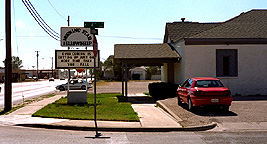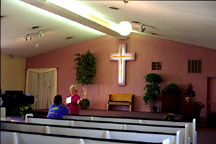 The old Temple Beth El building in an industrial part of town had become for a time a restaurant, now it's the Morningstar Fellowship Church.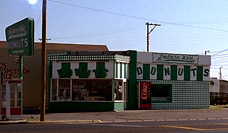 Midland and Odessa, just 15 miles apart, have always shared facilities yet are quite different in character. If Odessa is blue-collar, rough and ready, and unpretentious, then Midland is white-collar, orderly, shoes shined and tie straight. They're made for each other.